---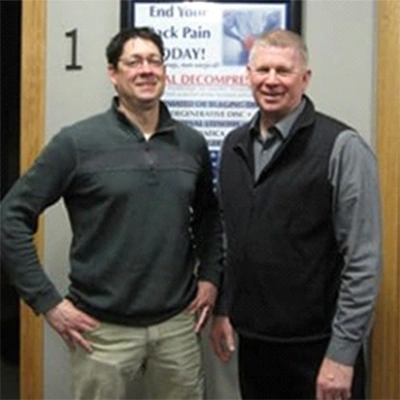 "My name is Ron and I was suffering for about 10 months with low back pain. Spending hours sitting at a computer each day throughout a year and a half of graduate school had caused severe pain that was affecting everything in my life. The pain was debilitating, I started experiencing different sensations like numbness and tingling in my left foot. It was affecting my ability to complete many of my daily tasks. I am a very active person and as a result of my condition I was unable to do the things I love. My wife had gone through the Non-Surgical Spinal Decompression therapy with Horn Family Chiropractic a few years ago and had fully recovered and was able to avoid surgery. Surgery was my very last option so I decided to call the Horn Family Chiropractic office to see if they could help me like they helped my wife. I was extremely impressed with the care and professionalism everyone gave me. They went above and beyond my expectations. Due to my work schedule, accommodations were made my first week to come in before normal opening hours so I would not have to miss any work. After going through the Non-Surgical Spinal Decompression I am now able to move freely and am back to my normal activities. Horn Family Chiropractic has helped me get my life back and I continue to improve with each visit."
- Ron
---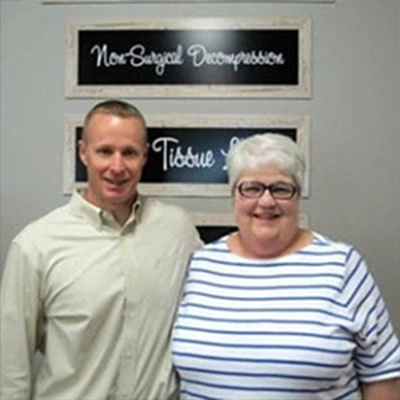 "My name is Nancy and I had suffered from low back pain for over five years. It was impossible for me to stand for more than a few minutes at a time and walking was extremely painful. My whole life was crippled by the pain I was experiencing. I could not even sleep in bed. I had tried everything from physical therapy to pain injections but nothing seemed to keep my pain away. My quality of life had been compromised to a point that I couldn't participate in many activities with my family. Finally I had enough. I was ready to try anything to get my life back and when my daughter Kim recommended Horn Family Chiropractic I decided to give their office a call. My daughter spoke highly of the care they provided to her husband and when I arrived for my first visit I felt hopeful that they would be able to help me too. After my evaluation I began the Non-Surgical Spinal Decompression treatments and I was so impressed. Throughout my treatments I could tell that this was the right choice for me and through the progress I made I began to feel like myself again. I am now able to walk and stand for long periods of time and I am able to enjoy activities with my family. I continue to improve with each visit and I am so happy I chose Horn Family Chiropractic. I know that I am doing better with each visit because I get comments from people all the time about how much better I am moving and I tell them it is thanks to Horn Family Chiropractic."
- Nancy
---
"I have been struggling with low back pain for many years due to a severe scoliosis that I was diagnosed with. It was quite painful and affected my life nearly every day. I had difficulty sitting or standing for any length of time due to the pain in my lower back. I had been treating with another chiropractor for several years but strictly for maintenance care. One of my friends from church and several others who were being treated at Horn Family Chiropractic encouraged me to try Horn Family Chiropractic because they had found relief through the different treatment options offered and the excellent care that they received. I was not disappointed when coming in for my first visit. I was met by the staff with care and concern for myself and my condition. Everyone was extremely nice and knowledgeable. Their office is run so smoothly and with a smile on each staff members' face. Since beginning treatment at Horn Family Chiropractic, I am able to sit and stand with very little discomfort. It is a good feeling to not be in pain constantly. I would absolutely recommend the doctors at Horn Family Chiropractic to others. It is important to do things for your body that doesn't include chemicals-your body CAN heal itself and HFC will show you how! I would recommend for anyone who is struggling with pain to call Horn Family Chiropractic. They will do everything humanly possible to help you. I have referred my husband, son and several other people to HFC and I truly believe it should be the first place you turn to, no matter what your complaint or discomfort is."
- Jean
---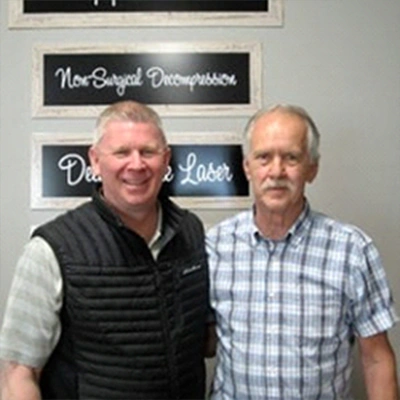 "My name is Steve and I was referred to Horn Family Chiropractic by one of my friends. I had been suffering from low back pain which would not go away and neck pain that would come and go. It was affecting my ability to live life to the fullest. I had a hard time doing much of anything. It even hurt to get in and out of my car, to bend over, or walk. The job I had for 17 years working on concrete included a lot of heavy lifting, twisting, turning and bending which has taken a toll on my body. The chiropractors and the team at Horn Family Chiropractic are very kind and go out of their way to answer all of my questions and help me to understand the things I need to do outside the office to help improve my health. The care I have received at Horn Family Chiropractic has allowed me to keep going. I would definitely recommend Horn Family Chiropractic to anyone who is suffering from pain or is unable to complete the tasks of their day because of pain. I have always believed strongly in chiropractic and always will because my father, Dr. Donald Davis, was a chiropractor. Yes- I have been under Chiropractic care since the day I was born and realize the positive effects that it has had my life."
- Steve
---
"I was in town this year visiting family and friends for Thanksgiving. While in town, I had an elbow "old age" issue. A close friend referred me to Horn Family Chiropractic in Milan. Dr. Taylor took me in on Wednesday before the holiday with only a two-hour notice. What a lovely young lady with a promising career. I needed four treatments. They proceeded to open their door for me at 8 AM on Thanksgiving Day and the following two days. Even though the office was supposed to be closed all three days, Dr. Horn and Dr. Callear chose to leave their families and help me get the treatment I needed when they realized I was going back to Georgia that Saturday. After getting back to Georgia, I received an email from Dr. Taylor with all the nearby chiropractic offices that offered the same laser treatment I received from them. She impressed me yet again. The treatment works by the way! I'm so proud to be born and raised in a place like the valley. It's nice to see that after being gone for 23 years, there are still small businesses like Horn Family Chiropractic that operate with that "small-town mentality" and treat customers the way they do. That in itself makes coming home once in a while worth it to me. I'd highly recommend them to anyone. If I wasn't 1,000 miles away, I'd finish my rehab with them."
- Aaron
---
"My name is Pastor Randy and I became a patient at Horn Family Chiropractic after my wife Diann was tired of watching me struggle to walk daily. Diann recommended that I try the laser therapy for my foot pain to see if it would help as a preparation for my upcoming marathon. After my evaluation, we decided to proceed with Deep Tissue Laser Therapy and specialized myofascial release. This treatment protocol decreased the pain in my foot and allowed me to walk again. I was very happy with the care and the results that I received. That was over a year ago. Recently, I began experiencing a nagging constant pain in my right hip that wasn't going away. The pain was affecting my ability to get around throughout the day. The pain felt like a toothache. I was living on pain medication every day, so I returned to Horn Family Chiropractic to see what they thought. With the pain I was in, I anticipated having a hip replacement until the doctors reviewed my X-rays and said they felt they could help me. I am continuing to treat for my low back and hip pain. I have gained more movement and I do not fear that I am making the hip joint worse. I can now squat down and lift my leg up without the excruciating pain that I was in. I am taking minimal medications. Some days I walk pain-free and don't even remember I had pain. They also reviewed specific stretching exercises to help improve my flexibility. The staff at Horn Family Chiropractic is friendly, honest and upfront. They are there truly there to help you through any health challenge you have. I really like the Christian music that they play throughout the office. Chiropractic has made a believer out of me, not in the same way Jesus has, but in the physical realm. I still believe that Jesus is the Healer and he can certainly use any means to accomplish His purpose in a person's life."
- Randy
---
"Dear Horn Family Chiropractic Team,
Greetings from the Camino in Spain! I just want you to know that your "former patient" is alive and very well with walking from Southern France to almost the coast of Spain on foot with NO BACK PROBLEMS!!! THANK YOU!!! I'm halfway to Santiago and am so grateful to be healed from my back problems (back in December of last year). Walking the Camino gives the sojourner much time to think and be grateful. I'm walking 20-30 kilometers a day and slowly making my way. I hope my testimony can offer some hope to anyone you're treating who may have a similar problem as I had.
Peace & Joy,"
- Dolores
---
"I have had a problem with plantar fasciitis for the past ten months. The pain in my foot was severe and it was interfering daily with my work as my job requires me to be on my feet all day. I had tried stretching, physical therapy, icing and Advil-all of which were helping some, but I continued to have problems getting through my day at work. It also made exercising difficult. I am an active person, and this was greatly interfering with my level of activity and making it extremely difficult to get through a day of work without my foot hurting.
I decided to try Deep Tissue Laser Therapy treatments. It took about four treatments before I began to notice a difference-possibly because I waited so long to seek treatment. The laser treatment along with Myofascial Stripping to break up the scar tissue have been very effective in getting me active again. I am now able to work and return to classes at the gym with little discomfort. I would definitely recommend Horn Family Chiropractic and Deep Tissue Laser Therapy to others as the entire staff is knowledgeable, professional, and courteous."
- Beth
---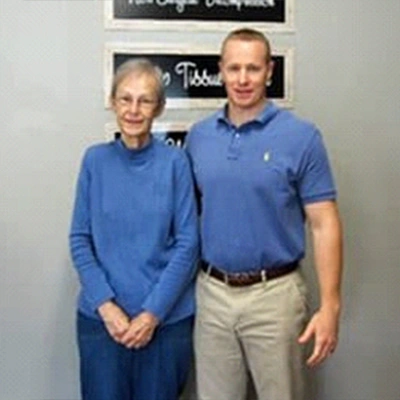 "My name is Julia and I had been struggling with frequent headaches and stiffness in my whole body for about seven years. I was unable to bend due to the stiffness throughout my body making it very difficult to complete day to day activities like vacuuming and yard work. I am retired and I wanted to be able to enjoy each day without having to fight against the pain I was experiencing. I knew several people who were current patients of Horn Family Chiropractic and when I began my treatments at the Horn Family Chiropractic office I could immediately see the professionalism and knowledge throughout the entire staff. Since beginning treatment I am enjoying life with improved health and well-being. I have been under chiropractic care for over 17 years and I have no intention of stopping. I would recommend for anyone who is having health challenges to call Horn Family Chiropractic for an evaluation. They are ready to help you reach your goals and give you lasting results."
- Julia
---
"My name is Jessica and I came to Horn Family Chiropractic when I was 36 weeks pregnant with my third child. My baby at the time was breech and transverse. I had read on the internet about the Webster Technique and how beneficial it could be to women of my condition. At that time I decided to give Chiropractic a try. After my first adjustment I was able to feel the baby making big improvements that same afternoon. By the next morning I could feel legs and feet by my ribcage. I was scheduled for an ECV, which is known to be painful, the next week for which I was instructed not to eat or drink after midnight in case an emergency C-Section was needed. At my next pre-natal appointment it had been confirmed that my baby had indeed flipped! I'm so glad I tried Chiropractic and the Webster Technique first. The process was safe, gentle and the staff at Horn Family Chiropractic was very helpful and attentive to all my needs. Chiropractic was definitely the smart choice for me."
- Jessica
---
"Hi my name is Jerry and I've been experiencing neck and upper back pain for the past year. I do a lot of repetitious work and began experiencing tingling and numbness in my hands. This made my work very difficult. I had been seeing the doctors at Horn Family Chiropractic for neck pain. My treatment included adjustments and inflatable cervical traction. Both helped decrease my pain but could not completely get rid of my pain. I was not willing to have surgery but needed to do something to provide me with more relief. That's when Dr. Tom recommended I try treatment with the Head, Neck and Shoulder Machine. The HNS machine decreased my pain levels significantly and made my daily activities much easier to do. The staff was very helpful and made me feel comfortable every step of the way. I would recommend the Head, Neck and Shoulder Machine at Horn Family Chiropractic because it improved my neck pain with no long term side effects or restrictions."
- Jerry
---
"This summer, I have been playing baseball and traveling to showcases in North Carolina in order to take my game to the next level. I typically am a catcher for our baseball team. After catching a whole game, I was asked to pitch in our game on the very next day. I was able to pitch, but afterward I experienced a deep ache in my elbow, tightness and achiness into my tricep, and tingling that went down my forearm into my hand. I also had a hard time gripping the bat while swinging. The symptoms persisted for four days after the game was over. My coach recommended I go to Horn Family Chiropractic for treatment of my arm pain. After just one treatment that consisted of Deep Tissue Laser Therapy, Myofascial Stripping, and an adjustment, I was PAIN-FREE. My arm felt looser, I had no tingling in my hand, and the pressure that I had been feeling in my elbow and tricep was gone. The same week that I sought out treatment, we had another showcase in North Carolina. I caught for 2 straight games with no pain. I felt like there was much less stress on my arm while throwing and feel like I am throwing harder. I was even able to throw out a runner from my knees-something I've never been able to do before! I am so happy with my care at Horn Family Chiropractic-they got me back in the game and feeling great, FAST!"
- Kaleb
ALTERNATING HOURS 
Week 1
---
Monday
7:15am - 11:00am
2:30pm - 6:15pm
---
Tuesday
7:15am - 11:00am
2:30pm - 6:15pm
---
Wednesday
7:15am - 11:00am
---
Thursday
7:15am - 11:00am
2:30pm - 6:15pm
---
Friday
7:15am - 11:00am
---
Saturday
Closed
---
Sunday
Closed
Week 2
---
Monday
7:15am - 11:00am
2:30pm - 6:15pm
---
Tuesday
7:15am - 11:00am
2:30pm - 6:15pm
---
Wednesday
7:15am - 11:00am
---
Thursday
7:15am - 11:00am
2:30pm - 6:15pm
---
Friday
7:15am - 11:00am
---
Saturday
Closed
---
Sunday
Closed