Community Outreach Programs in Athens PA
The Mitten Tree - Throughout the month of December, Horn Family Chiropractic and their wonderful patients begin collecting hats, gloves, scarves, mittens and other cold weather wear for all ages to add to the Christmas tree. Those items are then donated to local schools, churches and individuals in need. Based on the children's book The Mitten Tree by Candace Christiansen, the event has been part of Horn Family Chiropractic's holiday celebrations since 2015.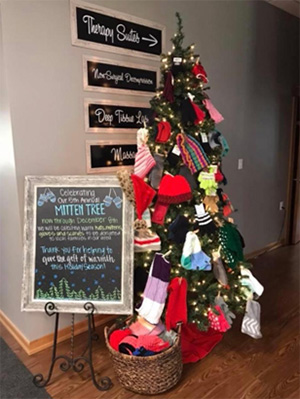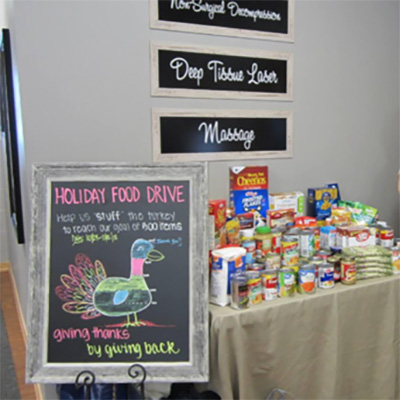 Holiday Food Drive - For over three decades Horn Family Chiropractic has been collecting non-perishable food items throughout the month of November to donate to local food banks, churches and families in need for the holiday season. This long standing tradition is one that the whole team and their amazing patients look forward to year after year.
School Supply Drive - Starting at the beginning of August, Horn Family Chiropractic begins their annual collection of school supplies. Notebooks, pens, folders and much more are donated and then distributed to children in need throughout the local school districts. Through a network of wonderful patients, teachers, and so many others throughout the community, any student can have access to the school supplies they need for the upcoming school year.
Love Your Pet Month - Since 2014, Horn Family Chiropractic has been celebrating Love Your Pet Day throughout the month of February. Collections of any pet related products are gathered at the office and then distributed to several of local animal shelters and rescues. As pet lovers, the Team at HFC and their patients enjoy being able to contribute to so many animals in need.
Workplace Wellness - All occupations, whether sedentary or physically demanding, can create stress on the body resulting in missed work days, poor productivity, and a negative work environment. The team of Doctors at Horn Family Chiropractic are committed to helping area employers improve the wellness of their workforce.
Health Fairs and Screenings, Employee Massage Events, and Wellness Presentations are all part of how Horn Family Chiropractic can help create a healthy lifestyle for all employees within your company.
ALTERNATING HOURS 
Week 1
---
Monday
7:15am - 11:00am
2:30pm - 6:15pm
---
Tuesday
7:15am - 11:00am
2:30pm - 6:15pm
---
Wednesday
7:15am - 11:00am
---
Thursday
7:15am - 11:00am
2:30pm - 6:15pm
---
Friday
7:15am - 11:00am
---
Saturday
Closed
---
Sunday
Closed
Week 2
---
Monday
7:15am - 11:00am
2:30pm - 6:15pm
---
Tuesday
7:15am - 11:00am
2:30pm - 6:15pm
---
Wednesday
7:15am - 11:00am
---
Thursday
7:15am - 11:00am
2:30pm - 6:15pm
---
Friday
7:15am - 11:00am
---
Saturday
Closed
---
Sunday
Closed